Our Radiesse deep wrinkle filler restores skin by plumping and smoothing wrinkles.
RADIESSE® is a deep wrinkle filler that temporarily adds volume and smoothes moderate to severe facial and hand wrinkles at Modern Aesthetic Centers Gate Parkway in Jacksonville FL. With Radiesse Jacksonville Clients can plump the skin to get the appearance of a smoother surface. Over time, Radiesse works to stimulate the body to produce collagen naturally. Ultimately the body absorbs the product and leaves behind the natural collagen for long-lasting results.
Radiesse is perfect for*:
Smile lines: Also called the nasolabial folds are the lines that run from the corners of the nose to the edges of the mouth.
Frown lines: That run downward from the corners of the mouth.
Pre-jowl fold: The area on either side of the chin, where skin can sag due to loss of facial volume
Chin wrinkles: The horizontal lines that can form on your chin and distract from your smile
Back of hands: As we age, our hands lose firmness and plumpness and begin to look boney and fragile. Veins and joints protrude, and skin becomes thinner and transparent.
Radiesse is the only dermal filler that may last up to a year or more in many patients.
How Radiesse Works
Clinical studies** showed that Radiesse clients were more satisfied with their results than clients treated with other leading wrinkle fillers.
The best part
Results can be seen immediately after injection, A Jacksonville Radiesse treatment restores volume to smooth out the signs of aging. The natural-looking results may last up to a year or more in many patients.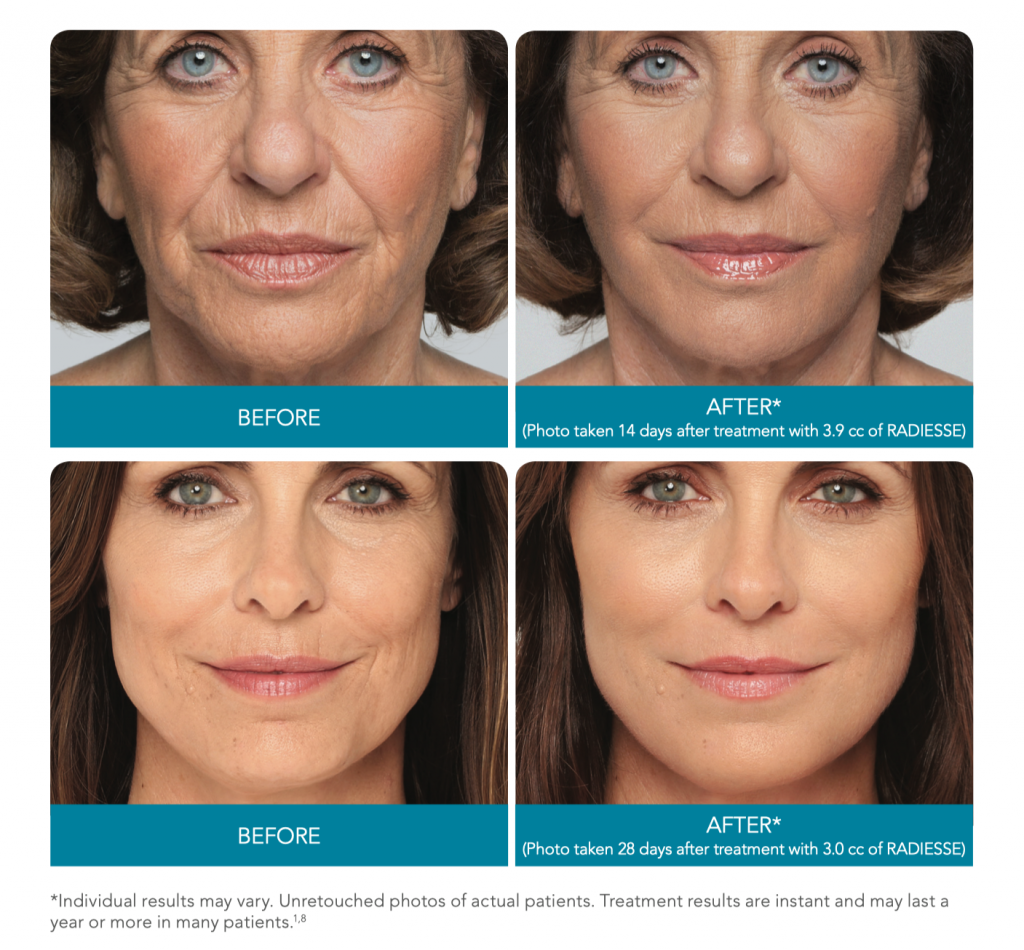 *Radiesse is FDA-approved for correction of moderate to severe facial wrinkles and folds, such as nasolabial folds.
**According to clinical studies with leading hyaluronic acid injectable dermal fillers.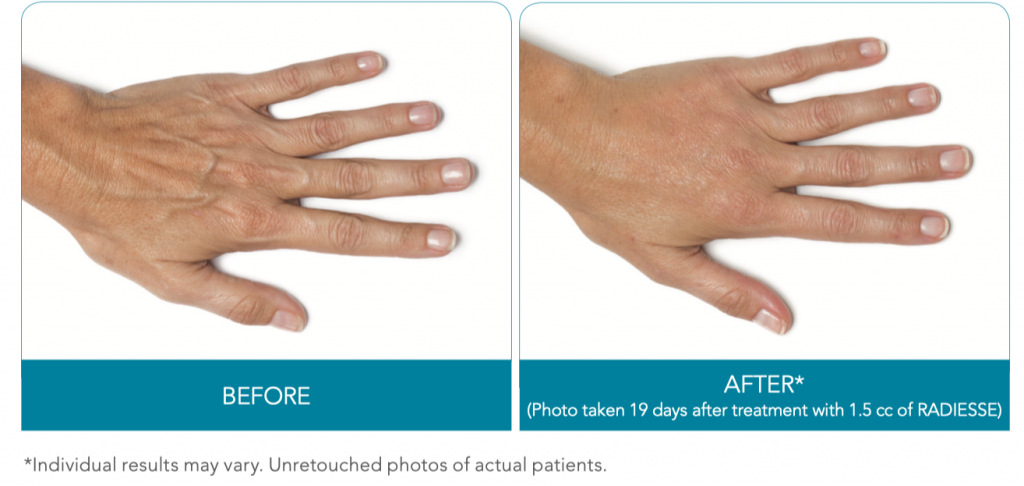 "I'm super happy with my Radiesse Treatment. It helped define my jawline, and it filled in the bags under my eyes. I also had the lines on each side of my nose and mouth filled. I went right back to work after the procedure. I call this a liquid facelift." – Mary F.