Nova PDO Thread Lift in Jacksonville will help you love your skin again
With a PDO Thread Lift Jacksonville clients at Modern Aesthetic Centers Gate Parkway can rejuvenate, regenerate and improve the structure of their face. A PDO Thread Lift is a non-surgical treatment that offers amazing, immediate results with less downtime than a surgical facelift. Special threads are placed in the skin with a fine needle to lift tissue and muscle, and improve skin texture.
PDO Threads are soluble polydioxanone (PDO), which is a material that has been used in medical surgeries for many years. PDO has been shown to relax muscles and tendons, as well as stimulate the production of new collagen in the skin and the synthesis of elastin and hyaluronic acid – all of which are vital for youthful, radiant skin.
Results vary individually but are often seen immediately following the treatment, and will improve over the following weeks. The skin's texture improves, becomes thicker, tighter, firmer and fine lines and wrinkles are smoothed away as the PDO Threads naturally dissolve over the following 90-180 days. Results can last up to two years.
You'll love your skin again after having a PDO Thread Lift.
How are Threads Inserted?
The absorbable thread is easily inserted through a needle. There are 3 types of needles that might be used.

Once the appropriate needle is selected, the suture is inserted parallel to the surface.
The PDO thread is injected and the needle is pulled out.
The PDO thread remains under the skin.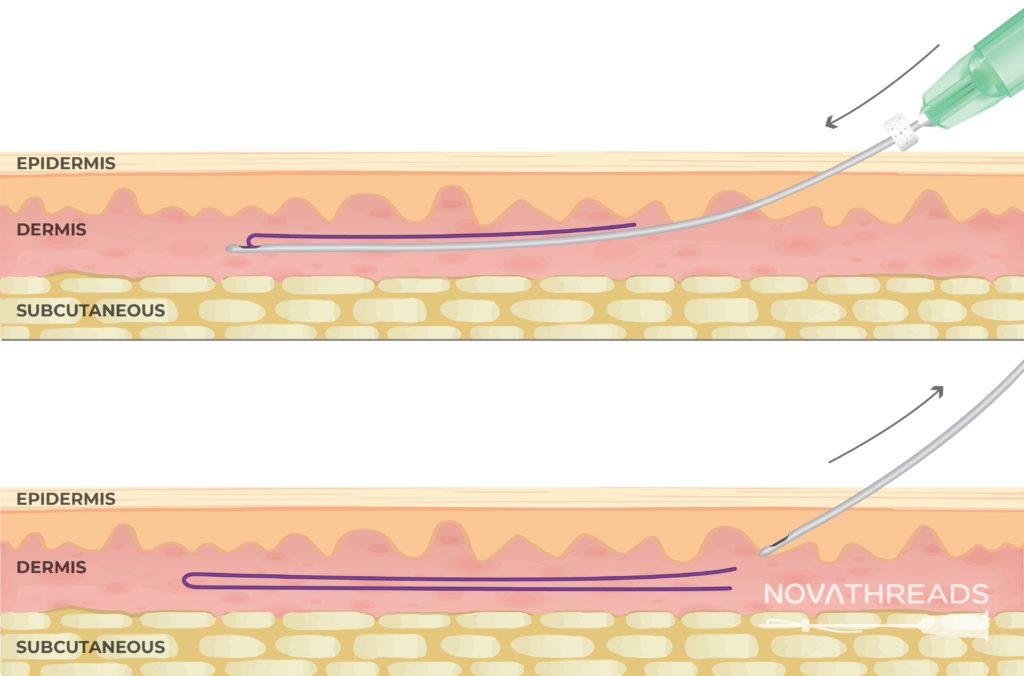 What areas can be treated with PDO Threads?
Threads are extremely versatile and can be used all around the face, neck, and body. Our Jacksonville PDO thread lift treats vertical and horizontal wrinkles:
Forehead
Sagging Brows
Drooping Cheeks
Nasolabial Folds (nose to mouth)
Marionette (corner of the mouth to chin)
Sagging Jawline
Neck
Folds & Wrinkles on Chin
"The threading facelift was the non-surgical fix I needed without a lot of downtime." -Tiffany