VI Peels are the painless beauty treatment everyone is talking about! A VI (Vitality Institute) Peel is a type of pharmaceutical peel for the skin designed to improve tone and texture for all skin types and all skin colors. It is a unique blend of minerals, TCA, phenol, salicylic acid, Vitamin C, and retinoic acid. These ingredients work together to improve a variety of skin concerns.
VI Peels improve tone and texture, clarity of your skin, and provide anti-aging benefits. They are specifically formulated to rejuvenate and help prevent future damage to the skin. These are great peels for those who want fresh, healthy, radiant skin.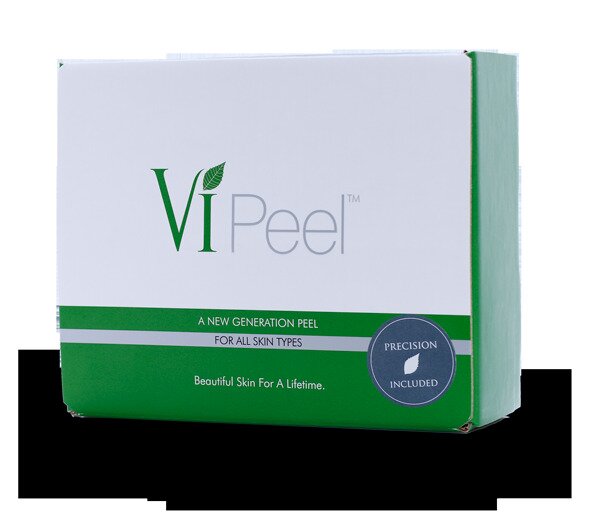 Vi Peel at Modern Aesthetic Centers Gate Parkway
Skin Care Concerns Treatable with VI Peel
VI Peels are customized to target specific skin concerns:
The Original VI Peel is targeted for anti-aging and skin rejuvenation. The aging process can cause your skin to become lax, pigmented and feel rough. Too much sun exposure without sun screen and environmental toxins only add to the natural aging process of fine lines and wrinkles. This peel is perfectly suited for all skin types and skin colors and those with sensitive skin.
The VI Precision Peel includes a booster with higher concentration of active ingredients to maximize results for aging skin.
The VI Precision Plus Peel targets pigmented skin. Hyperpigmentation, sun damage, and melasma are conditions where patches of skin become darker than surrounding skin. Anyone that deals with persistent hyperpigmentation or melasma knows this can be a difficult problem to correct and treat. VI Peel will help restore skin to a natural, even tone.
The VI Peel Purify is designed for acne and acne prone skin types. Acne is caused by many factors affecting the skin. When pores in the skin become blocked, bacteria builds up leading to breakouts. This peel will clear out dead cells and open pores, kill acne bacteria, and soothe inflammation and redness.
Key Benefits of VI Peels
All of the VI Peels will restore a more even skin tone, smooth away rough skin, reduce the appearance of fine lines and wrinkles, and reduce the appearance of dry or discolored areas on the skin. Acne clients will notice a decrease in breakouts, clearer skin, and reduction in discoloration from acne and acne scars.
Aging is inevitable.

But, the VI Peel can make a difference in as little as 7 days
How Many Treatments Will I Need?
The number of treatments depends on the condition of the skin and the end goal established with your aesthetician. VI Peels can be administered every 4 weeks for maximum benefits. VI Peels can be used as stand alone treatments or combined with other aesthetic treatments to enhance results.
Is the VI Peel Painful?
No, the Vi Peel is not painful. The peels contain an anesthetic which helps to lower the discomfort level sometimes associated with chemical peels.
VI Peel Post Treatment
After the application of the VI Peel, post procedure products are sent home with each client. On the first two days, your skin will feel tighter and without any signs of having had a chemical peel. Pigmented or darker areas on the skin may appear slightly darker. At about day three, your skin will start to peel beginning around the mouth. The peeling is most significant for about 24-48 hours once the peeling begins. Then, it tapers off and you will be all done peeling by day four or five.
It's important to keep skin moisturized and protected from the sun throughout the process. About day four or five when your skin is done peeling, the PH level of your skin normalizes and you will see the dramatic difference in your skin. The skin will appear to have a glow and pigmentation issues will be improved or eliminated.
ZO® Skin Health at-home skin care products allow our patients to experience healthy skin regardless of their age or unique skin condition.
Schedule Complimentary Consultation
Call (904) 928-9400 or submit a request to schedule a complimentary consultation. We look forward to meeting you and customizing an antiaging skin care regimen that works best for you!