Vi Peel is the chemical peel known for treating all skin colors and skin problems. Now VI Peel takes on the body! The results you've been experiencing with the face and neck are now happening with all areas of the body.
What is a VI Peel?
A Vi Peel combines the strongest and most effective acids suitable for all skin types and ethnicities. It is the only peel safe to use on the eye area, neck, chest and hands. It is a blended peel formulated with Trichloroacetic acid (TCA), Salicylic acid, Retinoic acid, Phenol, and Vitamin C. Now this unique formula is available for the back, legs and arms.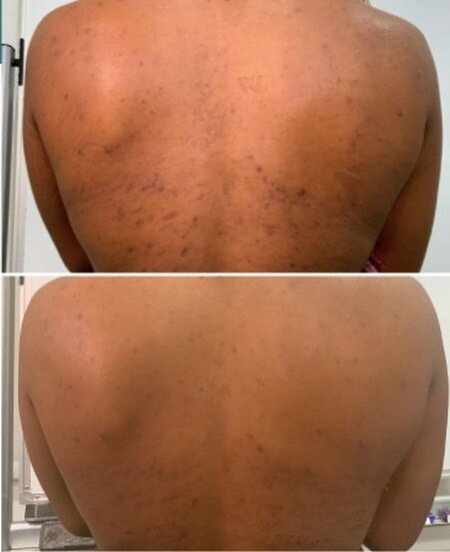 VI Peel for the Body
"Modern Aesthetic Centers Gate Parkway has had great results with Vi Peels for the face, so we are thrilled to have customized VI Peels available for areas of the body. It's going to be a game changer for skin discoloration." –Lisa J. King, Medical Aesthetician.
Key Benefits of a VI Peel
Softens fine lines and wrinkles
Restores a more even skin tone
Smooths away rough skin texture
Reduces the appearance of age spots
Brightens most stubborn areas of discoloration
Pain-free procedure
What is discoloration or hyperpigmentation?
Hyperpigmentation is a condition when patches of skin become darker than the surrounding skin. Although it is usually harmless, it can be difficult to treat effectively. VI Peels can be customized to treat specific concerns like hyperpigmentation, sun damage, and melasma.
VI Peels Also Treat:
Acne Prone Skin
Aged Skin
Sun Damage
Rosacea
Melasma
What to expect after a VI Peel?
You will be provided an all-inclusive Post Peel Kit for the following several days. You can expect to start exfoliating within a few days. The body may not peel like you may have experienced with the face, but you will notice a gradual improvement in the treated areas.
How many treatments will I need?
VI Peels are recommended annually to maintain healthy, youthful skin. If your skin is problematic, a series of peels may be necessary.
"I must say Lisa King is amazing. She is very skilled and caring. She is very detailed in her methods. I won't go anywhere else!" –Dawn R., Patient Google Review.
Schedule A Consultation
We invite you to schedule a Complimentary Consultation to learn more on the benefits of Vi Peels for the face and body.
Your Best At Every Age. Safe. Affordable. Effective.