What is Radiesse?
Radiesse is an FDA approved injectable made of calcium hydroxylapatite. Radiesse is used for the non-surgical Brazilian Butt Lift or BBL Effect to round, shape, volumize, and lift the buttocks.
How does the BBL Effect with Radiesse work?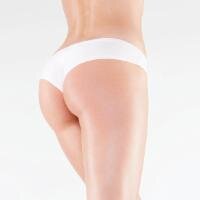 BBL Radiesse for Non-surgical Enhancement
Radiesse provides immediate volume correction and continues to work by stimulating the production of your own collagen. Over time, the calcium is absorbed leaving behind your own collagen and elastin. As we age our fat pads shrink and collagen production slows resulting in sag. Radiesse restores volume and structure while stimulating lasting collagen and elastin. Hyaluronic acids like Juvederm and Restylane only restore volume.
Where is Radiesse used?
Radiesse can be used on several areas of the areas of the face and body, but the BBL Effect concentrates solely on butt ehnancement.
"Non-surgical butt augmentation is a favorite among women because no surgery is involved. Even patients that have had previous fat augmentation use Radiesse to maintain the volume and shape of their previous surgery. Sculpting and contouring the body has become every bit as important as the face, especially with our outdoor Florida lifestyle. Every women wants to look good in a bathing suit." -Susan Coker, PA-C, Master Injector and Laser Specialist.
What can I do to improve a saggy bottom?
Short of surgery, Radiesse is recommended. Skin irregularities can be caused by laxity and cellulite. Dimples or dents are where a cellulite band tethers skin. These bands can be broken and the skin released during a procedure call subcision in our office. Then, Radiesse is injected to smooth and volumize the areas in the buttocks for a fuller, rounder, and smooth contour.
How do I know what treatment will work for me?
Because every body is unique, a personal consultation is necessary to talk about your concerns and goals so you will feel good about your decision with Radiesse.
How long do these treatments last? No procedure including surgery can stop the aging process. Periodic retreatments are required to maintain your results. How often depends on the rate at which you age.
Are there other treatments that would work?
Surgery is definitely an option. Yet, even with fat grafting the results are not always permanent. Radiesse is an alternative to surgery and definitely recommended to maintain results of fat grafting on the body. Body contouring treatments, like Emsculpt, which improve and enhance muscle tone will work well to increase the muscle tone and shape in combination with Radiesse. Radiesse has the unique ability to add volume where it doesn't exist anymore and contour areas where fat pads have shifted.
The BBL Effect with Radiesse Consultation
We personally invite you to schedule a Complimentary Consultation with our Master Injector and Laser Specialist, Susan Coker, PA-C, to establish your goals, ask questions, and learn more on the benefits of non-surgical butt enhancement treatments.
You can look and feel your best. Safe. Effective. Affordable.