Smart sun protection is taking a more comprehensive approach to sun protection. ZO Skin Health's superior sunscreens have the broadest range of UVA/UVB, HEV, and IR-A sun protection available. Additional hydrators, antioxidants, DNA repair, and anti-inflammatory agents complete each formula to help strengthen the skin and increase the skin's tolerance and ability to repair itself.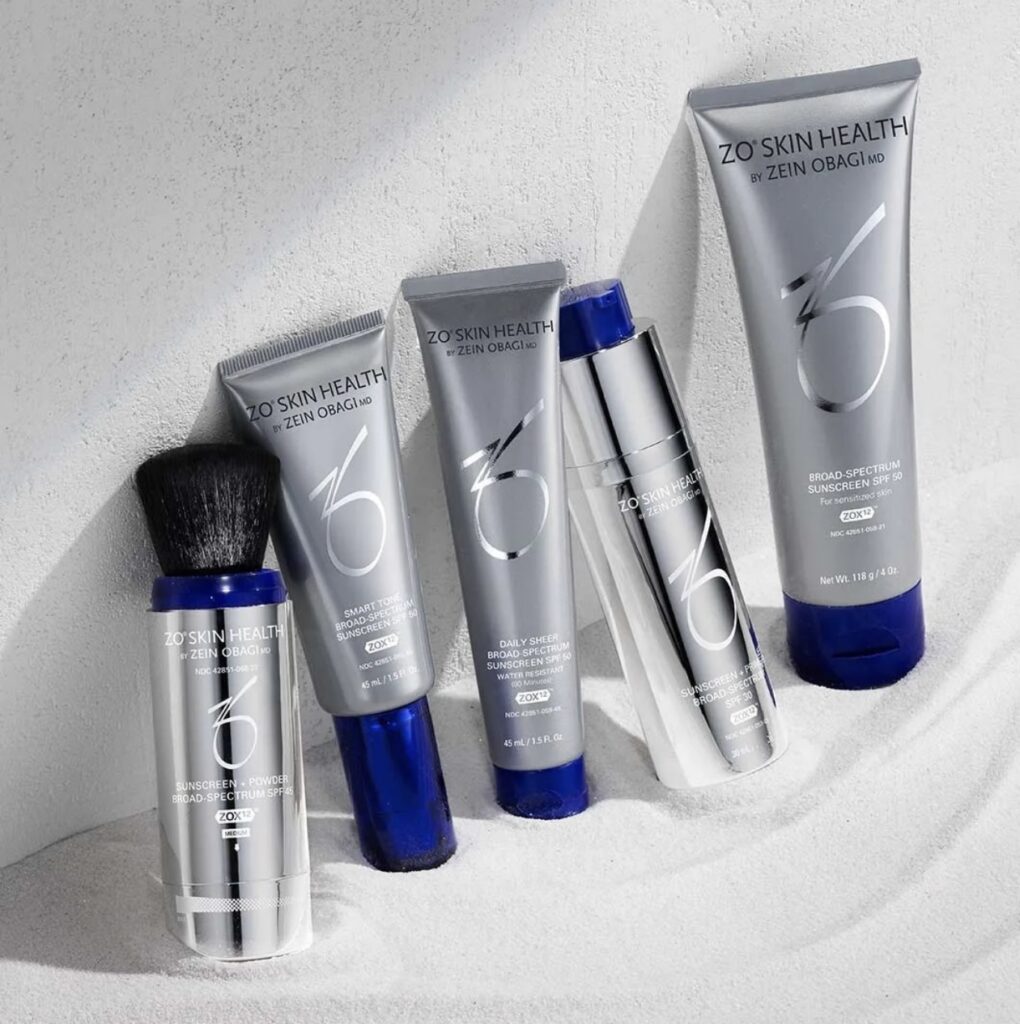 ZO's Sunscreens at Modern Aesthetic Centers Gate Parkway, Jacksonville, FL
"Proper cleansing and sun protection are two simple steps to prevent your skin from premature aging. ZO offers a variety of sunscreens to fit everyone's lifestyles." -Colby Craig, Aesthetician and Skin Care Concierge
What is Smart Sun Protection?
Smart sun protection:
Utilizes physical and chemical protection against UVA/UVB, HEV, and IR-A rays
Strengthens skin barrier function
Increases tolerance and natural resistance to UV light
Suppresses UV-induced inflammation
Defends against cell-damaging free radicals
Protects and helps repair DNA, since damaged DNA is responsible for cellular dysfunction, inadequate skin cell renewal, mutations and skin cancer
ZO offers broad-spectrum protection, including hydrators to support the skin carrier function by replenishing lipids and hydration that are lost to UV exposure. Anti-inflammatory agents to soothe skin irritation and minimize the inflammation, which helps to stabilize melanocytes and prevent hyperpigmentation. And, antioxidants to provide continuous protection against the harmful effects of free radical damage, supporting the integrity of DNA and protecting again infrared radiation.
ZO'S Triple Protection
ZO's sun protection offers both physical and chemical sunscreens that provide broad-spectrum protection against harmful, skin-aging UVA rays and skin-burning UVB rays.
Melanin protects the skin from the aging effects of HEV light. Protection from this light is especially important, as exposure comes from many daily sources including the sun, fluorescent and LED lighting, smart phones, computers, tablets, and more.
Antioxidants in ZO's sunscreens provide extended antioxidant protection to help neutralize damage caused by harmful IR-A, preventing future signs of premature aging.
What is HEV light?
HEV or high-energy visible (HEV) light is a high-frequency light in the violet/blue band of wavelengths 400nm to 500 nm in the visible spectrum. HEV light may be as harmful as UVA/UVB light rays. HEV penetrates more deeply which can potentially cause greater-long term damage.
What happens to skin long term without the use of sunscreens?
Sun exposure induces chronic inflammation. This type of inflammation is a destructive process that leads to abnormal cellular function and a weakening of the skin's immunity, specifically the immunity that help skin repair itself. Sun exposure will weaken the skin's ability to repair damaged DNA resulting in:
Skin discoloration
Dryness and roughness
Sensitivity and redness
Damaged skin collagen and elastin
'Had a facial today with Colby and she was great? I already set my next appointment with her." – Jennifer M., Google Review
Schedule Your Complimentary Consultation
Reclaim your complexion and improve the health of your skin. We invite you to schedule a Complimentary Consultation or call (904) 928-9400 to learn more on the benefits of ZO's Skin Health's medical-grade skin care. Jacksonville, Florida.
Your Best At Every Age. Safe. Affordable. Effective.