Skin health is in for 2022 and it's based in science. There is a systematic approach to restoring skin health. ZO Skin Health offers a simple, comprehensive approach to creating and maintaining healthy skin.
Targeted Program Solutions
ZO's comprehensive programs are designed specially to provide solutions of the most common skin concerns. ZO Skincare will transform your complex in 3 simple steps.
Acne. Sun Damage. Lines and Wrinkles. Melasma. Rosacea. Dull and Dry Complextion. Uneven Skin Tone. Rough Texture.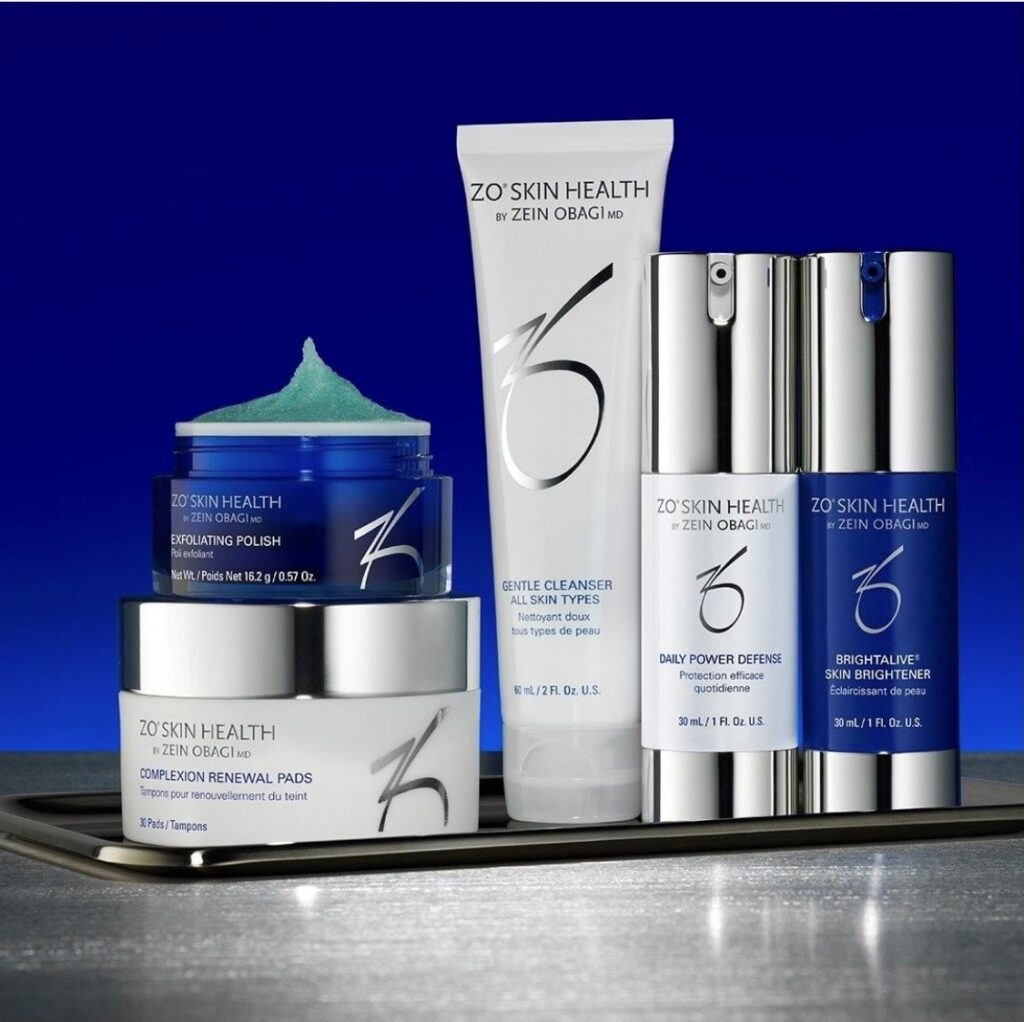 ZO Skin Health at Modern Aesthetic Centers Gate Parkway, Jacksonville, FL
"ZO Skin Health is by far our most popular skin care with our clients because it's delivers what is promises. I have been educating men and women about the benefits of medical grade skin care for over ten years. It's important for me to recommend products that I know will help clients. Results matter when you make the investment of both time and money." –Laura Ingalls, Medical Aesthetician.
Facts About Aging:
Age. Genetics. Diet. Stress. Environment. Sun. Over time, these factors contribute to the visible signs of aging, which can include the appearance of fine lines, wrinkles, dullness, uneven skin tone and loss of natural hydration.
First Step to Restore Skin Health
Getting Skin Ready (GSR). GSR is the essential first step toward achieving healthy skin. It is a simple system of cleanse, exfoliate and tone – working synergistically to restore skin to a healthy state and to optimize the effectiveness of any preventative or corrective products.
CLEANSE
Normalize skin with proper cleansing
Remove surface debris
EXFOLIATE
Promote exfoliation to improve circulation
Enhance product penetration
Remove dead skin cells
TONE
Control oil
Restore pH
Soothe dry skin
Second Step to Restore Skin Health
Prevent and Correct. Products to address specific skincare concerns. These include products ranging from preventative daily skincare programs, which keep skin healthy and prevent future damage, to aggressive programs that target repair and restoration.
ZO products focus on using a wide range of ingredients such as high-potency retinols, alphahydroxy acids, growth factors, vitamin C and many others to provide a comprehensive array of products to repair every skin concern.
Third Step to Restore Skin Health
Protect. The ZO sun portfolio offers scientifically superior sunscreens with the broadest, most comprehensive range of sun protection available. Their advanced Triple Spectrum Protection shields again UVA/UVB, high-energy visible (HEV) light, and IR-A (infrared) rays.
"It's so important to understand our client's lifestyle and goals for skincare. Skincare consults are always no charge at our office. Our customer service and commitment to our clients doesn't have an end date." –Teresa Davis-Mills, Nurse Aesthetician, Founder.
Schedule Consultation
We invite you to schedule a Complimentary Consultation to learn more on the benefits of ZO Skin Health for a flawless, beautiful complexion.
Your Best At Every Age. Safe. Affordable. Effective.