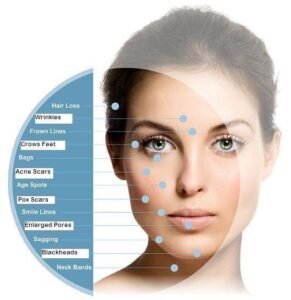 You may have noticed that your skin has become drier, thinner, and more sensitive with age. Imperfections are becoming more apparent. Wrinkles and age spots form over time as a result of less elasticity and excess sun exposure. Acne scars can also be a problem many people find difficult to fix. At Modern Aesthetic Centers Gate Parkway, we offer a no downtime skin rejuvenating procedure called MicroNeedling to help improve acne scars, stretch marks, and other unwanted skin imperfections. Think of microneedling as a treatment between superficial microdermabrasion and a light to medium depth fractional laser peel – no downtime of a microdermabrasion and the benefits of a light to medium depth fractional laser peel.
As we age, our skin cell turnover slows down leaving our skin looking less refreshed and healthy. Microdermbrasion or Hydradermabrasion, like our HydraFacialMD procedure, gently removes dead skin cells and encourages skin cell turnover. These treatments leave your skin looking polished with a healthy glow and no downtime. Best done monthly, but you can jump in anytime for an immediate refresher.
Fractional laser resurfacing treatments on the other hand are customized to specific micron depths to break through the epidermis into the dermis allowing for significant changes to the skin in the dermis or collagen matrix. Fractional laser treatments require a few more days of redness and downtime, but the payoff is priceless. Our Fotona Twin Light Laser or our MicroPlasma Laser treatments are the best option when considering a laser treatment. They treat mild to moderate to severe problems with the skin. The number of treatments will vary depending on the condition of the skin and goal for correction. So, how does microneedling fit in?
Microneedling bridges the gap between the two – the skin cell turnover of a hydradermabrasion and the depth of fractional peel. This procedure increases circulation, accommodates the thinness or thickness of all skin types, does not dehydrate the skin, does not require prolonged downtime, works in harmony with other skin care treatments, provides permanent results, treatment times are less than an hour, and painless.
Micro Needling:
• works by creating hundreds of microscopic channels in the dermis without inflammation
• stimulates the skin's natural production of new collagen and elastin
• uses a device that is extremely versatile and treats the face, neck and chest, including larger areas of the bodies
• treats all skin types and all skin colors safely without concern of hypopigmentation or hyperpigmentation
• BONUS: stimulates circulation on the scalp for hair growth
• improves acne scars * hyperpigmentation or other skin discolorations * stretch marks *enlarged pores * lines * wrinkles * tone and texture of the skin
Skin rejuvenation options don't have to be confusing. We invite you to meet with one of skin experts to customize the skin care that's the perfect fit for you. Call and Schedule your Complimentary Consultation to get started! (904) 928-9400