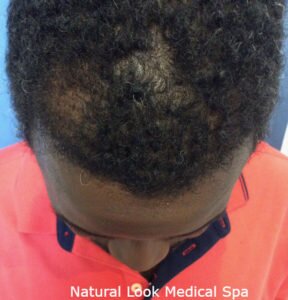 Hair loss can be sudden or gradual. Changes in hair growth patterns can occur during a time of severe stress, a new medication, or commonly it's just hereditary. Modern Aesthetic Centers Gate Parkway offers a simple, non-surgical therapeutic option for men and women, all skin colors, and hair types. Platelet Rich Plasma or PRP is transforming hair restoration.
What is PRP Hair Restoration?
Platelet Rich Plasma(PRP) hair restoration involves using your own platelets which contain essential and specific growth factors that jump start hair regeneration beyond vitamins and topical over-the-counter products. Your own platelets are prepared in a centrifuge using Modern Aesthetic Centers Gate Parkway's proprietary method for maximum results. Your concentrated PRP (platelet rich plasma) is then injected into the treatment site. Treatments for hair restoration can be used on any area of the head or body, but is more common for the scalp. A combination therapy of both microneedling or laser with PRP may be recommended depending on the type of hair loss and the treatment area. The Modern Aesthetic Centers Gate Parkway client shown in the photos received one treatment of PRP. The results were visible within 3 months. Larger areas of hair loss will also benefit, but may need additional treatments. This treatment requires no downtime and allows you to return to your normal activities the next day.
What do I need to do to prepare for a treatment?
The best recommendation to prepare for your treatment is to hydrate with water since your blood will be drawn to extract platelets.
How many treatments are needed?
The number of treatments are specific to your type of loss. The average number of treatments is 3 done within a 90-day period. Semi-annual or annual visits may be necessary to maintain your results.
Does it hurt?
An anesthetic is used to keep you comfortable.
How long does it take?
The actual procedure is about an hour. You can return normal activities.
Who is a candidate for PRP?
Both men and women of all skin colors and skin types are candidates for PRP hair restoration.
As you can see by the picture, results can be very dramatic! Schedule your complimentary consultation (904) 928-9400.