PiXel8-RF is the newest essential skin care treatment for antiaging and non-surgical skin rejuvenation. Pixel8-RF is a minimally invasive fractional, bi-polar, Radio Frequency (RF) device that disperses microneedles deep within the dermis to achieve dramatic skin tightening and skin rejuvenation. This skin rejuvenation treatment is beneficial for all areas of the face, neck, and body.
In as little as 20-30 minutes per treatment, PiXel8-RF can improve visible signs of aging. You can look more youthful with tighter skin and improved skin tone and texture .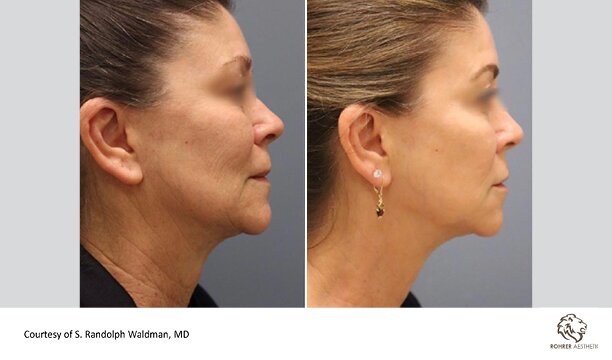 PiXel8-RF at Modern Aesthetic Centers Gate Parkway
What does PiXel8-RF treat?
The PiXel8-RF can be used for wide variety of antiaging concerns including:
The Pixel8-RF combines the latest advancement in Microneedling and Radio Frequency technologies.
Unlike laser treatments, the PiXel8-RF uses only radio frequency energy. The microneedles precisely deliver the RF energy into the dermal tissue. There is virtually no thermal damage to the epidermis and reduces the risk of PIH in darker skin types. This technology makes treatments both safe and effective for all skin types I-VI.
After the age of 30, we no longer produce collagen

– and we start to lose 1% of our remaining collagen per year.
The Pixel8-RF provides precise and controlled coagulation and hemostasis deep with the dermis to help stimulate collagen, providing dramatic skin tightening results and skin rejuvenation. The microneedle depth can be adjusted for each treatment allowing the practitioner to customize treatments for delicate areas under the eyes, the neck, and decolletage.
How many treatments will I need?
Visible results are normally seen after the first treatment. A 3-treatment series is recommended to achieve best results. Additional treatments may be necessary depending on the desired results. Your practitioner will establish a treatment plan customized for your specific needs. Each treatment is scheduled 4 weeks apart. Periodic PiXel-RF treatments should be a part of an antiaging regimen to keep youthful looking skin as the signs of aging continue throughout the years.
How long is each treatment?
The procedure itself takes approximately 20-30 depending on the area treated. However, the treatment will need an additional 30 minutes to prepare the skin for treatment which can take an additional 30 minutes. Appointment times are scheduled for 60-75 minutes.
What should I expect after the treatment?
Most clients will experience redness and minor swelling. On average, redness and swelling will subside within the first 24 hours or less. After 24 hours, you may apply makeup. Suncreen is necessary. Your practitioner will review pre and post care with you during the consultation. It's time to take care of your skin and treat yourself to a new skincare regimen that will grow with you as you age.
ZO® Skin Health at-home skin care products allow our patients to experience healthy skin regardless of their age or unique skin condition.
Call (904) 928-9400 or submit a request to schedule a complimentary consultation. We look forward to meeting you and customizing an antiaging skin care regimen that works best for you!