Emsculpt is building muscle and changing the way to a fitter body. Emsculpt is a revolutionary muscle building device that is an entirely new category of technology. This technology is called HIFEM (High Intensity Focused Electro-Magnetic) energy designed to build muscle without breaking a sweat.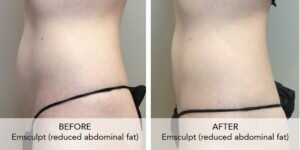 Emsculpt Before and After Abdomen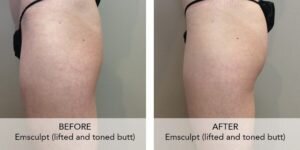 Emsculpt Before and After Buttocks
How much does Emsculpt cost?
Modern Aesthetic Centers Gate Parkway is currently offering a savings of $1,000 for the first 25 VIP callers.
How many treatments do you receive?
You receive 4 treatments . 2 – 30 minute treatments a week for 2 weeks. These treatments are the equivalent of doing 20,000 crunches or squats in 30 minutes.
How long do they take?
The treatments each take only 30 minutes. Your whole series of 4 will only take 2 hours of your time.
What does it feel like?
Emsculpt feels like intense muscle contractions. There are three different pulse sequences that work together in contracting your muscle 20,000 times. IT IS THE GOOD SORE!
How quickly do you see results?
You will FEEL change after on treatment. GOOD SORE. Visible results will start to appear 2-4 weeks after your treatment and become more pronounced over time.
Which areas can be treated?
We are FDA cleared to treat the abdomen and the buttocks, although other areas of the body such as legs and triceps are available for treatment. Your practitioner will meet with you during your complimentary consultation to determine if you are a candidate for one or more areas. All areas can be treated during the same day appointment.
Who is a good candidate?
A great candidate for Emsculpt is someone who is looking to build and tone muscle. Emsculpt penetrates 7 cm in depth which is 2.75 inches. The ideal candidate is someone who has 2 inches of fat or less. If the abdomen needs to be reduced in size before starting your Emsculpt treatment we recommend one or more Vanquish ME treatments to jump start your body contouring success.
How much recovery? Is there a recovery?
There is no recovery for Emsculpt. It is completely non-invasive. No downtime. No Prep. Relax for 30 minutes and let Emsculpt do all the work for you!
Is the treatment the same for the abdomen and buttocks?
The abdomen is treated with the side effect of permanently reducing fat called apoptosis – while building muscle. It takes about 3 months to see full results of apoptosis. The treatment for the buttocks does not remove fat – it only builds muscle. Changes in muscle are seen approximately 4 weeks after 4th treatment.
What's the difference between a TENS unit and Emscuplt?
A TENS unit has only up to 3cm depth and only stimulates muscles, does not contract muscle or engage motor neurons. Emsculpt penetrates 7cm and engages the motor neurons for actual contractions to simulate 20,000 crunches or squats in 30 minutes creating supramaximal contractions.
Call today and schedule your complimentary consultation and personalized body contour evaluation with an experienced practitioner. Results are happening at Modern Aesthetic Centers Gate Parkway. Get started on yours today!