Sun damage and wrinkles age the neckline. To rejuvenate this area of a woman's chest it's necessary to address both concerns to restore a youthful neckline. What works best? A combination treatment using IPL Photofacial to remove sun damage and brown spots combined with Dermal Filler to soften deep lines and wrinkles.
What is IPL Photofacial?
Skin revitalization with IPL Photofacial is a nonsurgical treatment that will improve your skin's appearance quickly and easily. Advanced light-based technology clears undesirable brown spots, sun damage, and red vessels to reveal clearer skin.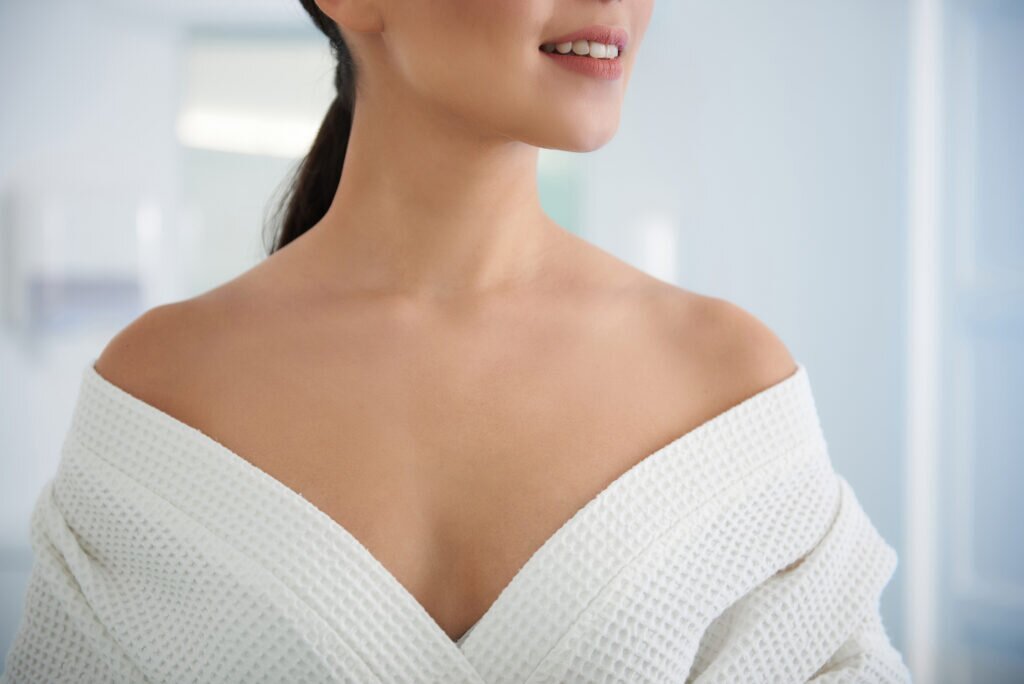 Youthful Neckline at Modern Aesthetic Centers Gate Parkway, Jacksonville, FL
"Instant correction of lines and wrinkles with Radiesse and clearing sun damage with IPL Photofacial on the neckline work together to provide beautiful, long-lasting results." –Susan Coker, PA-C, Master Injector and Laser Specialist
How do Dermal Fillers Help?
Collagen is the main structural protein in our skin-it's what helps it feel and look tight, taunt, and youthful. As we age, the production of collagen slows down, causing skin to sag leaving visible lines and wrinkles. Dermal Fillers, like Radiesse, provide immediate correction but continues to work by stimulating the body to produce its own natural collagen for a more refreshed appearance by softening and smoothing lines and wrinkles.
Radiesse:
Provides immediate restoration fo lost volume in lines and wrinkles
Encourages stimulation of your natural collagen for long-lasting definition
Helps provide a more natural-looking and youthful appearance
'Susan is excellent! Everyone who works at the spa is so professional and inviting. The services they offer are safe and give you the results that you are looking for in a comfortable and clean environment. Go see Susan. Susan will help you look the way you feel." –Carla P.D., Google Review
Schedule Your Complimentary Consultation
We invite you to schedule a Complimentary Consultation or call (904) 928-9400 to learn more on the Neckline Rejuvenation Treatment.
Your Best At Every Age. Safe. Affordable. Effective.