EMTONE is the first and only device that simultaneously delivers both thermal and mechanical energy to treat all 5 causes of cellulite. Roughly 90% of women say they have cellulite. If you are one of the many women who want to do something about it, know there isn't a single factor to target to solve the problem.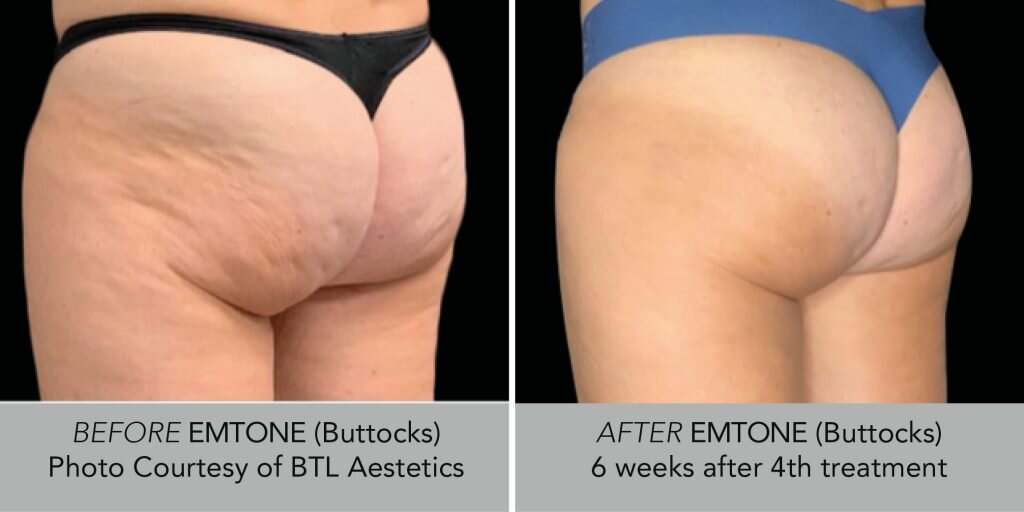 EMTONE at Natural
What is Cellulite?
Cellulite are deposits of subcutaneous fat within the fibrous connective tissue that give a puckered and dimpled appearance to the skin surface. It can be found on several areas of the body, but most often seen on the hips, thighs, and buttocks. Cellulite tends to get worse with age, so it's wise to begin looking into treatment as soon as you notice it.
What causes Cellulite?
Cellulite can be caused by cumulative sun damage and body fat, as well as skin laxity and loss of integrity and thickness of the skin all play a role. There are five major contributing factors to cellulite:
A Breakthrough Cellulite Treatment

93% Visible Reduction in Cellulite
Who is a candidate for Emtone?
Emtone is ideal for anyone looking for non-invasive cellulite reduction and overall improvement of the appearance of the skin for both cellulite and laxity. All skin types and body types are good candidates. The procedure is both non-invasive and no anesthesia is required.
How many treatments will I need?
During the first visit, your provider will design your individual treatment plan. Most patients undergo 4 treatments, scheduled once or twice a week. A treatment typically takes about 20-40 minutes depending on the treatment area. Additional treatments or enhancements are recommended to maintain optimal results.
How fast will I see results?
Improvement can be seen after one single treatment session. The results will typically continue to improve over the next few months. With no downtime after the treatment, you can resume normal activity after the treatment.
Schedule Complimentary Consultation
Call (904) 928-9400 or submit a request to schedule a complimentary consultation. We look forward to meeting you and customizing your EMTONE treatment plan.