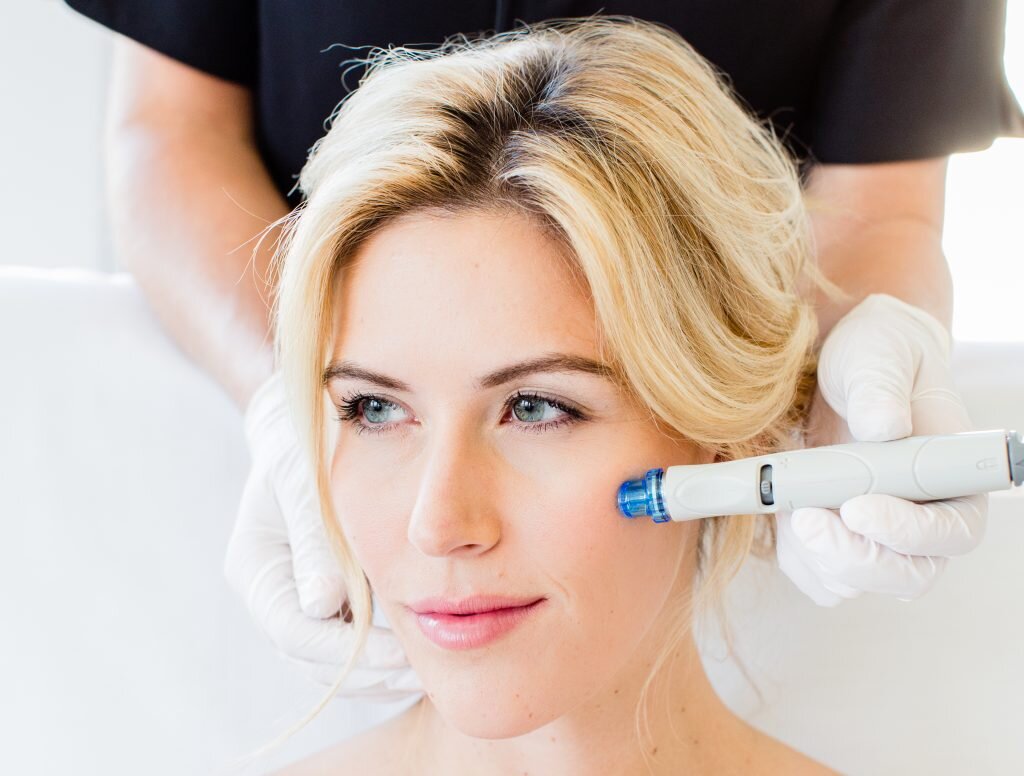 The HydraFacial MD® skincare treatment is very unique compared to treatments of the past. It cleans your pores while infusing peptides and antioxidants into the skin. Instead of a one-size-fits-all approach, HydraFacials are customized to each individual's skin with various tips, serums, and boosters.
I discussed the serums and steps of our 45-minute Age Refinement HydraFacial in this blog post. Our newest addition to help battle the effects of aging and rejuvenate your skin is the Wet Diamond tip.
Stronger Exfoliation with a HydraFacial Wet Diamond Tip
Clean skin seekers can boost the efficacy of their HydraFacial by adding the Wet Diamond tip. The level of exfoliation is comparable to that of microdermabrasion. It's great for clients with thicker skin, or skin that is oily or congested.
The Diamond tip is used prior to the HydraFacial to remove dead skin cells and clean out pores. It improves texture and reduces the appearance of age spots and fine lines too. Add the diamond tip to your HydraFacial treatment to enjoy healthier skin.
Other Treatments and HydraFacials
A few precautions are necessary when having a HydraFacial. Patients who have recently undergone injectables should wait five to 14 days, depending on the type of injectable. If you're planning the HydraFacial before injections, aim to have it 24 hours ahead of time.
Those receiving laser treatments should schedule their HydraFacial either 24 hours before, or a full month after for the best results.
HydraFacial Aftercare Tips
Stepping out of our Jacksonville medical spa, you'll want to follow a few aftercare tips.
Avoid the sun. Skip tanning for at least 48 hours, but if you must sunbathe, prevent UV damage by applying SPF 30 or higher.
Avoid the heat for a day. Take this as your excuse to skip an intense cardio day, and steer clear of the sauna.
Wait 48 hours to apply any prescription medications, Retin A products, or products containing salicylic acid to your skin.
Wait 24 hours before aesthetic injections.
Wait 30 days before any facial laser services.
Follow the advice of your aesthetician about your home skincare and makeup routines.
You will likely see results immediately after the first treatment, but we recommend continued monthly treatments.
Are You Ready to Schedule Your HydraFacial at Modern Aesthetic Centers Gate Parkway?
Detox your skin for a brighter and smoother look with the medical-grade HydraFacial in Jacksonville, Florida. Experience skin fitness with your first HydraFacial. Call (904) 928-9400 or request a complimentary consultation online.