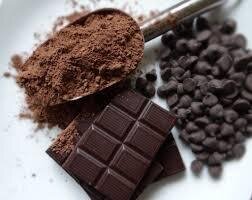 This delicious and decadent treat has been a fan favorite for ages. Christmas, Easter, Halloween, or in this case, Valentine's Day are all days in which chocolate is a much deserved guilty pleasure. Many may not know, but some chocolate can actually be good for you!
Internally, chocolate can:
Lower blood pressure
Increase serotonin (the feeling of well-being and happiness)
Raises HDL and Protects LDL Against Oxidation (dark chocolate)
Even though we love the taste of sweet milk or white chocolate, it is actually dark chocolate that has large amounts of antioxidants and may improve blood flow and lower blood pressure. This sweet delight is not only good for your insides, but can do wonders for your skin. The antioxidants called Flavonols actually help your skin protect itself from UV damage which means fewer wrinkles and no sun spots!
What is a Flavonol?
Flavanols are phytonutrient compounds that are found naturally in apples, grapes, tea, cocoa and cherries, which account for the antioxidant effect provided by red wine and green tea.
Chocolate can also:
Nourish, hydrate, and moisturize
Promote skin renewal process
Smooth
Tighten
Calm and heal irritated skin
Who knew everyone's yummy weakness could actually be so great for your health and beauty? So the next time you take a bite of this dessert remember that your body is getting many great benefits from the inside out. Chocolate is not a free ticket to over indulge, but it will certainly leave you feeling less guilty the next time you splurge with a delicious chocolate dessert on a special occasion.
Chocolate may very well be a component to good skin care, but the basics are timeless. Sunscreen, proper at home skin care, and routine facials are the basic, timeless recommendations for youthful skin. Eating chocolate is a bonus ingredient!
An apple a day may keep the doctor away, but chocolate can keep your skin fresh and new. Schedule your next facial (904) 928-9400. Complimentary Consultations. https://naturallookmedicalspa.com/.