ZO Skin Health delivers innovative skin care solutions for all skin types. Whether your skin is sun damaged, suffers from chronic rosacea or acne, aged with lines and wrinkles, or extremely sensitive, ZO skin care offers the latest advances in skin therapy therapies, unique delivery systems, and exclusive formulations to get your complexion where you want it to be!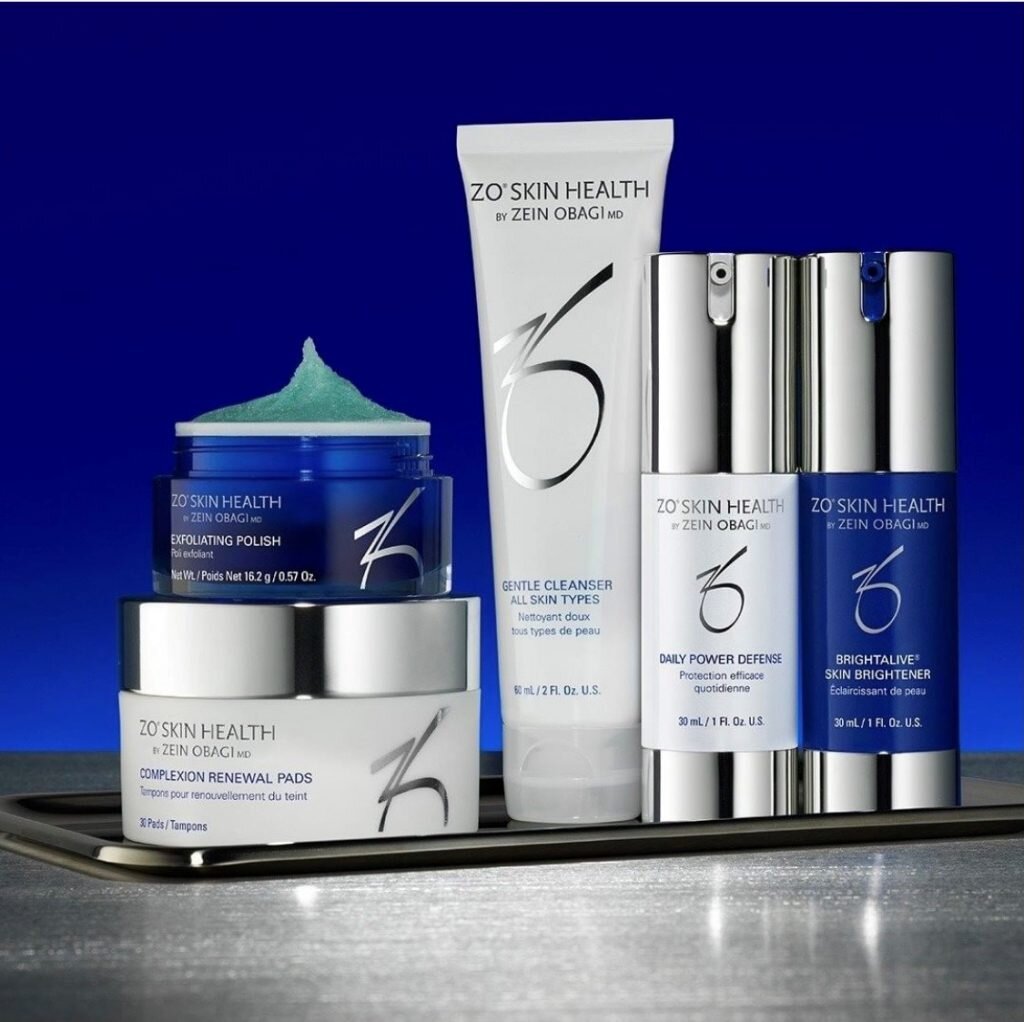 ZO Skin Health at Modern Aesthetic Centers Gate Parkway, Jacksonville, FL
"ZO Skin Care has so many benefits because it's a medical-grade skin care line that delivers results quickly and affordably. There are a wide variety of products which allows us to customize a skin care regimen for all skin types and target specific concerns." -Lisa Jo King, Medical Aesthetician and Body Sculpting Expert
ZO Skin Health reverses the damage from age, genetics, diet, stress, environment, and the sun with simple to use daily skin care regimens developed for your skin type.
ZO® SKIN HEALTH
Age. Genetics. Diet. Stress. Environment. Sun.
Especially in Jacksonville Florida, over time, these factors contribute to the visible signs of aging, which can include the appearance of fine lines, wrinkles, dullness, uneven skin tone and the loss of natural hydration.
ZO® Skin Health, Inc. develops and delivers innovative skincare solutions that optimize skin health based on the latest advances in skin therapy technologies, unique delivery systems, bioengineered complexes, and exclusive formulations. By providing comprehensive skin care programs for physicians and their patients, ZO® Skin Health, Inc. bridges the gap between therapeutic treatments and daily care, allowing patients to experience continuously healthy skin regardless of their age, ethnicity or unique skin condition.
Cutting-edge Science
ZO® Skin Health, Inc. products and protocols allow our patients to experience healthy skin regardless of their age or unique skin condition.
Cleanse. Exfoliate. Tone.
The first step toward achieving healthy skin is a simple system of cleansing, exfoliates and tone – working together to restore skin to a healthy state and to optimize the effectiveness of any preventative or corrective products.
Prevent + Correct
Prevent + Correct Products address specific skincare concerns. These include products ranging from preventative daily skincare programs, which keep skin healthy and prevent future damage, to aggressive programs that target repair and restoration. ZO® products focus on using a wide range of ingredients such as high-potency retinol, alpha hydroxy acids, growth factors, vitamin C and many others to provide a comprehensive offering of products to repair every skin concern.
THE POWER OF TRIPLE-SPECTRUM PROTECTION™
ZO® sun protection portfolio offers scientifically superior sunscreens with the broadest, most comprehensive range of sun protection available. Our advanced, Triple-Spectrum ProtectionTM shields against UVA/UVB, high-energy visible (HEV) light and IR-A (infrared) rays.
Products
ZO® offers a simple, comprehensive approach to creating and maintaining healthy skin.
STEP 1: GETTING SKIN READY™
Healthy skin starts with the basics. Bring skin back to its most healthy, balanced state for a clear complexion, regardless of skin type.
STEP 2: PREVENT + CORRECT
A wide range of products that help correct skin issues from acne + rosacea to hyperpigmentation + aging while preventing future damage.
Anti-Aging
Brightening
Redness
Acne
STEP 3: PROTECT
ZO® Sunscreens offer Triple-Spectrum Protection™ to protect against sun + light damage.
SUPPLEMENTARY
Eye
Hydration + Calming
Body
Skin Type
All Skin Types and All Skin Conditions, including Sensitive Skin
Complimentary Skin Care Consultation
It can be confusing to decide what products will work best for your skin. At Modern Aesthetic Centers Gate Parkway, we offer a Complimentary Skin Care Analysis to evaluate your skin type, concerns, lifestyle, and budget. Our Aestheticians will work closely with you to design a skin care regimen to meet your goals.
'I am so incredibly happy with my experience so far! I have had two facials with Colby and have been so impressed. She is thorough, personable, and has legitimately transformed my skin with the skin care regimen that she put me on. I have extremely sensitive skin that has been the bane of my existence for over a year. I've tried Curology and gone to other spas, and had only seen it get worse. I'm so glad that I stumbled on Modern Aesthetic Centers Gate Parkway! I can't recommend them highly enough." – Lauren J., Google Review
Schedule Your Complimentary Consultation
We invite you to schedule a Complimentary Consultation or call (904) 928-9400 to learn more on the benefits of ZO Skin Health. Jacksonville, Florida.
Your Best At Every Age. Safe. Affordable. Effective.