Ultherapy is considered to be the gold standard for nonsurgical skin tightening on the face, neck and chest.. Not only does Ultherapy treat all skin tones safely, it is a no downtime, noninvasive procedure with amazing results to slow the signs of aging and improves areas with laxity.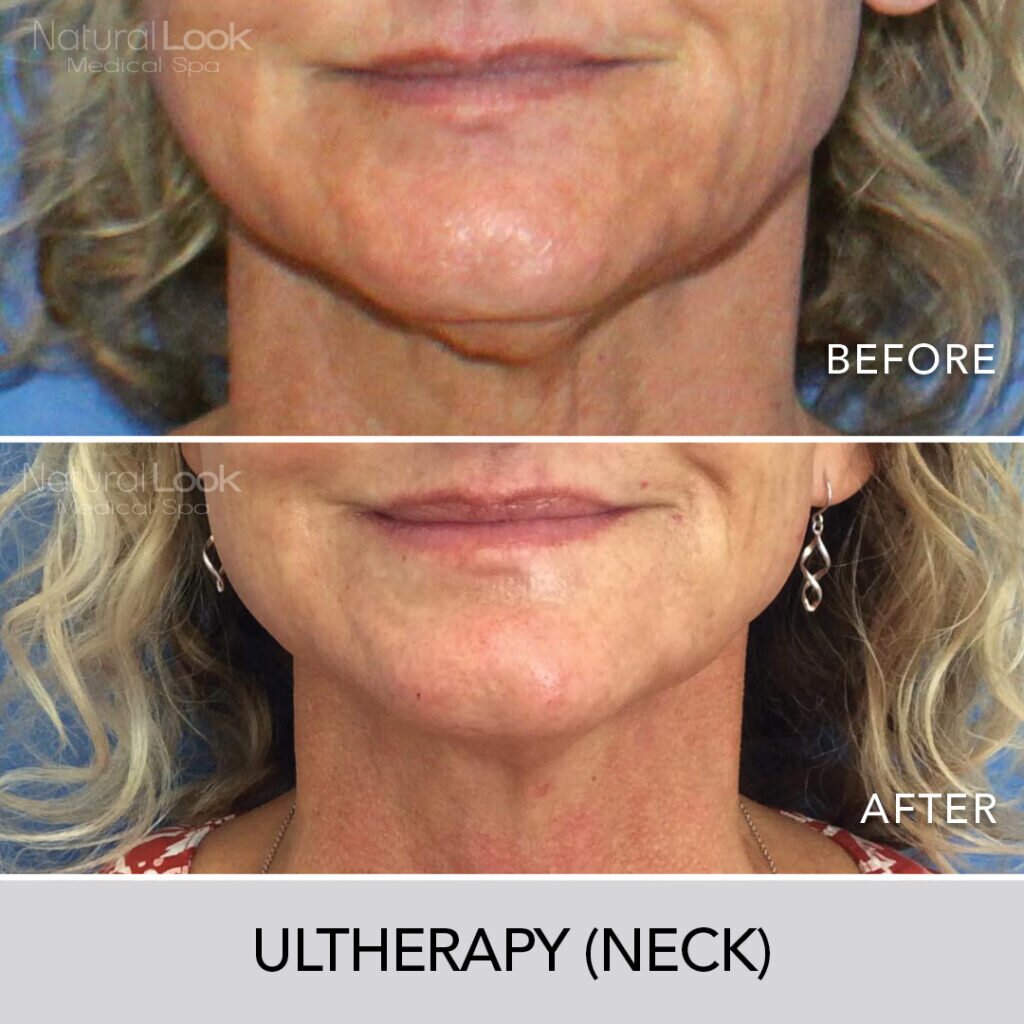 Ultherapy at Modern Aesthetic Centers Gate Parkway, Jacksonville, FL
"Ultherapy is a focused ultrasound device that has been helping both men and women prevent and correct skin laxity on the lower face, neck and chest. Not only is the Ultherapy procedure safe and effective for all skin tones, it is a painless procedure without any downtime." -Susan Coker, PA-C, Expert Aesthetic Injector and Laser Specialist
How does Ultherapy work?
As we age, collagen fibers weaken resulting in sagging skin. Ultherapy is an FDA-cleared Focused Ultrasound procedure to lift, tone, and tighten by triggering your body's own natural regenerative response that stimulates the growth of new collagen and elastin. Collagen is the primary building block of your body's skin.
The most noticeable signs of aging is in our profile! The jawline is less pronounced because skin sags and the neck becomes creased with deeper lines and loose skin. Ultherapy is utilized in aesthetics to both prevent loose skin and correct signs of aging.
Ultherapy Highlights
Affordable
Customizable for each patient
Natural-looking results
Noninvasive
Nonsurgical
Painless
Prevention and correction
Safe and effective for all skin tones
Well-established safety profile
Is Ultherapy painful?
Ultherapy is not painful. At Modern Aesthetic Centers Gate Parkway, a local anesthetic is used so patients receive a comfortable procedure.
Is there downtime?
There is no downtime with an Ultherapy procedure. Patients are able to return to work, activities, and routine skin care post-treatment.
Who can benefit from Ultherapy?
Both men and women of all skin tones benefit from an Ultherapy collagen boost to maintain healthy, firmer skin. Because this is a noninvasive procedure, there are no incision or scars.
What are the most commonly treated areas?
The most commonly treated areas are the lower face, neck and chest. Other smaller areas of the body can also be treated with Ultherapy.
'I absolutely love the staff here. Susan Coker is wonderful and so easy to talk to. Great service and wonderful environment. Thank you! " – Lindsay B., Google Review
Schedule Your Complimentary Consultation
We invite you to schedule a Complimentary Consultation or call (904) 928-9400 to learn more on the benefits of Ultherapy. Jacksonville, Florida.
Your Best At Every Age. Safe. Affordable. Effective.