Is a Hydrafacial or Microdermabrasion facial the better skin care treatment? It's a common question because Microdermabrasion facials have been around for over twenty years. So, microdermabrasion facials were considered to be the go-to facial. Whereas, Hydrafacials have recently gained popularity to become the most requested facial treatment. Both facials are beneficial for antiaging. But, they have different delivery methods.
Fortunately, we offer both at Modern Aesthetic Centers Gate Parkway. Our experienced aestheticians are experts in skin care treatments. They will assess your skin and recommend the treatment that's best for your skin.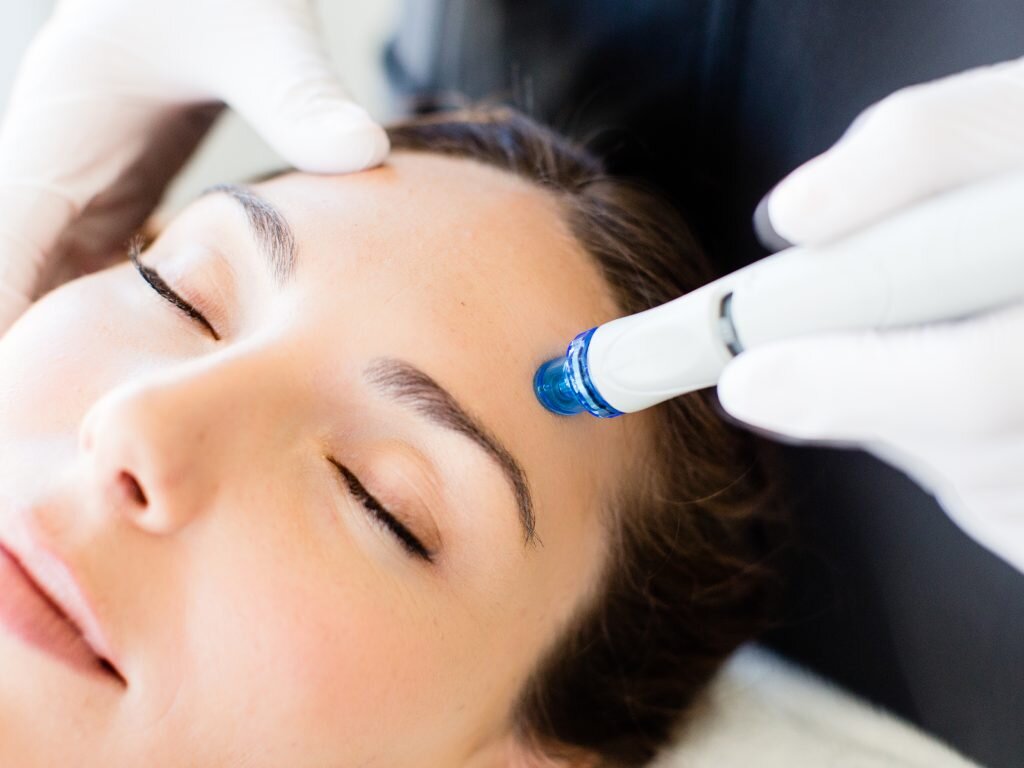 Hydrafacial Video
What is the difference between Hydrafacial and Microdermabrasion?
Hydrafacial is a medical-grade facial that uses serums for a wet Microdermabrasion, called Hydradermabrasion. It's a gentler method for exfoliation of the top layer skin, or epidermis, but equally effective as a Microdermabrasion. Hydrafacial uses a unique, patented Vortex-Fusion delivery system to cleanse, exfoliate, extract, and hydrate skin, and, the spiral design delivers painless extractions.
Microdermabrasion is dry exfoliation using either micro-crystals or a crystal-free diamond tip for exfoliation. Both treatments remove all of the dead skin, dirt, and oil that's clogging your skin. Microdermabrasion facials are a manual process of cleansing, exfoliation, extractions, and hydration.
What steps should I expect with either facial?
Cleansing removes makeup and skin care products.
Exfoliation provides a deeper clean to remove embedded dirt and oils clogging the pores.
Peels increase skin cell turnover with alphahydroxy, betahydroxy or an enzyme peel to reduce fine lines, acne, wrinkles and large pores. Peels are optional with a microdermabrasion.
Extractions removes whiteheads and blackheads.
Hydration saturates the skin's surface with antioxidants and peptides to maximize the health of your skin.
Protection is the application of skin care products and sun protection for your specific skin type.
Do they treat all skin types?
Both facials treat all skin types, including acneic, dry, normal, oily, or sun damaged skin. But, Microdermabrasion may irritate certain skin types. As a result, Hydrafacial is the better option for rosacea and sensitive skin types.
What are key measures for skin care?
HYDRATION- According to hundreds of Skin Health experts, hydration is the single most crucial factor in healthy skin. Dryness, scaly skin, flakes or peeling, even tight-feeling skin can be indicators for lack of hydration.
TONE AND TEXTURE- How your skin looks and feels. Is your skin dull and lackluster or bright and glowing?
PORES AND CONGESTION- This is a good measure of how clean and clear of blackheads your skin is. How visible are your pores?
Modern Aesthetic Centers Gate Parkway Clients LOVE our Aestheticians
Jaz W — ⭐️⭐️⭐️⭐️⭐️
July 2020: Laura is a D-O-L-L she is very professional and knowledgeable. She made me feel relaxed during my micro-needling and hydrafacial procedure. Great experience at Modern Aesthetic Centers Gate Parkway Med Spa. I would definitely recommend this place.
Jamie E — ⭐️⭐️⭐️⭐️⭐️
July 2020: Wonderful experience all around! It was my first time having a HydraFacial, and I am already looking forward to my next one. Lisa is amazing and so knowledgeable regarding skincare. She explained each step in the process. She's truly passionate about what she does.
Hydrafacial or Microdermabrasion?
Skin care treatments can be varied between Hydrafacial and Microdermabrasion depending on your skin. Both facials work well on the face, neck, chest, and other areas of the body. It's always best to work with your Skin Care Specialist to determine the skin care treatment that's right for you.
Skin care is self-care. It's time for a facial! Call (904) 928-9400 or schedule an appointment online.