Microneedling treatments for acne scars are safe, effective, and affordable. This treatment is an alternative to chemical peels and laser peels. Microneedling can be used as a stand alone approach for treatment or it's easily used in combination with other treatments to maximize the results.
Unfortunately, the lasting effects of acne scarring are both visible and emotional.
Acne scars are formed when a breakout penetrates the skin and damages the tissue beneath it. As a result, acne scars range from shallow depressions to deep and narrow depressions. Acne scars are more common on the face, but they can occur anywhere on the body. Other areas acne scars will appear are the neck, back of the neck, chest, and back.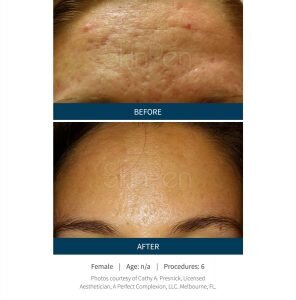 Microneedling at Modern Aesthetic Centers Gate Parkway
How do microneedling treatments for acne scars work?
Microneedling is also known as Collagen Induction Therapy. Microneedling works by creating hundreds of micro-injuries in the skin to stimulate the body's natural wound-healing process. These tiny micro-injuries across the scar increase collagen production. As a result, there is a remodeling of scar tissue. Collagen improves scar tissue, reduces the depth of scars, and improves the look and feel of acne scars.
There are three phases to the wound-healing process:
Phase I: Inflammation. Micro-injuries in the skin trigger your immune system to increase blood flow and begin to create new tissue.
Phase II: Proliferation. The micro-injuries are rebuilt with new granulation cells. Additionally, a new network of blood vessels develops.
Phase III: Remodeling. The micro-injuries are replaced with new dermal tissues and blood vessels.
Although the thought of tiny needles being used on the skin may seem painful, and even a little frightening, microneedling is a gentle procedure. The needles easily glide across the skin without resistance. A topical numbing agent can be applied prior to the treatment to ensure a painless, comfortable treatment.
What is the best microneedling device?
All microneedling devices are not created equal. SkinPen is the first device cleared by the FDA and sets the industry standard for safety. By design, SkinPen uses single application, sterile needle cartridges. The device is surrounded by a biosheath that acts as a barrier to prevent cross contamination between procedures. Safety measures like these are the reason SkinPen is the first microneedling device cleared by the FDA. Skin Pen is safe and effective for all skin types and skin colors.
How many treatments will I need?
Acne scar patients should begin with a series of 3 treatments. For best results, treatments are recommended every 4 weeks. The number of treatments is determined by the depth of the scars, the age of the scars, and the body's ability to produce new collagen. Acne patients may need more than 3 treatments.
What else does microneedling treat on the skin?
The SkinPen is also used for the improvement of:
Surgical scars
Stretch marks
Fine lines
Wrinkles
Large pores
Uneven skin tone
Sun Damage
Ruddy Complexion
Collagen enhancement for anti-aging
Can microneedling be used on areas of the body?
Yes, Skin Pen can treat any of the face, neck, chest, back, arms, abdomen and legs. Microneedling is an effective treatment for sun damage when used in combination with a glycolic or betahydroxy chemical peel. The results are amazing!
What should I expect post-procedure?
Expect the skin to appear slightly pink or red immediately post-procedure, similar to a mild to moderate sun burn. Additionally, the most common treatment responses experienced were dryness and peeling. The responses usually resolve within a few days. Mineral makeup or tinted sunscreen may be applied the following day.
For optimal results, ZO Skin Health offers skin care for active acne and acne scarring. It is important to apply sunscreen daily.
Schedule Complimentary Consultation
Microneedling is a safe, affordable, non-surgical solutiont for the improvement of acne scars and other skin imperfections. Schedule a complimentary aesthetic consultation or by calling (904) 928-9400.