KYBELLA™ is the non-surgical treatment for double chins. Surgery is not always the first choice for small areas of unwanted fat. More patients are looking for non-surgical alternatives because there is downtime with surgery, anesthesia and recovery process.
There are a few causes for excess fullness in small areas, like the double chin. Causes may include genetics, weight gain, or aging. Unfortunately, diet and exercise is not always enough to rid unwanted fat.
Modern Aesthetic Centers Gate Parkway offers a non-surgical treatment for both men and women that can improve your neck and chin profile.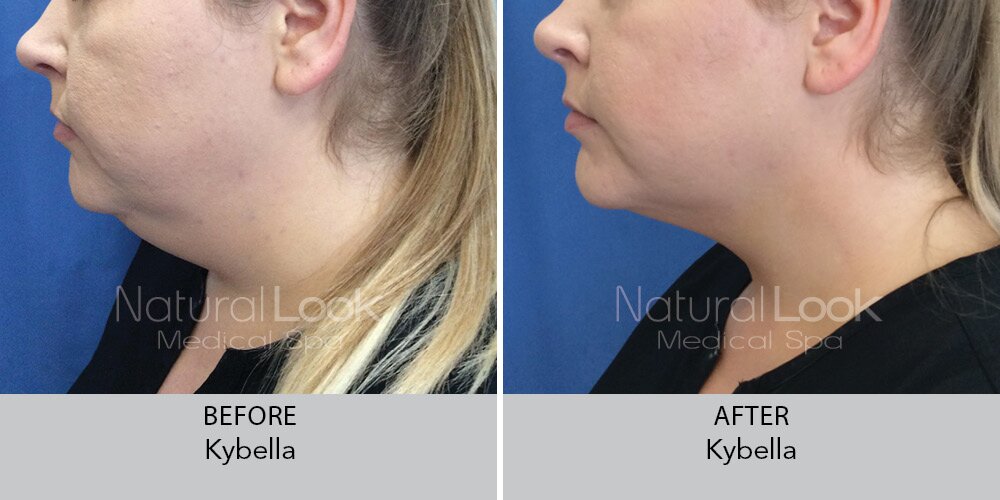 What is KYBELLA™?
KYBELLA™ is an FDA approved prescription medicine, deoxycholic acid. Deoxycholic acid is a naturally occurring molecule that helps break down fat in the body. It's a safe injectable product used in adults to improve the appearance and profile below the chin. Fat below the chin (submental fat) is also commonly known as a "double chin".
KYBELLA™ TREATMENT BENEFITS FOR DOUBLE CHINS:
Non-surgical
15-60 minute in-office treatment session depending on the size of the area
Customized to help you achieve your treatment goals
Destroys fat cells when injected into the fat beneath your chin.
Re-treatment is not expected once the aesthetic goal is achieved
How Does KYBELLA™ Work?
Fat cells are broken down each time KYBELLA™ is injected into the treatment area. Within a short period of time, the fat cells are cleared away through the natural processes of your body. You will notice less fullness and improved appearance with each treatment.
Does Fat Return?
Once the fat cells in the treatment area are gone, they're gone! The fat cells no longer accumulate fat because KYBELLA™ dissolves fat cells. So, you should expect long-lasting results.
What To Expect During Treatment
The KYBELLA™ Treatment Process:
First, the consultation and initial assessment.
Second, a topical numbing medicine is applied to the treatment area. The numbing relieves any discomfort from the injections. Then, the area is grid-marked for placement of the injections.
Third, once you feel numbness in the area, the injections take just a few minutes. You may experience a mild stinging sensation from the KYBELLA™ product.
And lastly, a cold compress is applied to soothe any discomfort. Any stinging resolves quickly. Actually, the injections are very similar to Botox injections.
What To Expect After Treatment
Expect some swelling and tenderness after the treatment. The swelling lets you know the treatment is working. Bruising is always a risk at the injection site. But, bruising is seldom and resolves within a short of period of time.
Do Results Vary?
Yes, results can vary. Your practitioner will personalize your treatment plan to achieve maximum results. The results are cumulative beginning after the first treatment. The volume of fat in the treatment area determines the number of treatments. Treatments are administered every four to eight weeks until you reach your desired results.
Schedule a Complimentary Evaluation
Find out if the KYBELLA™ treatment for double chins is right for you. Please call (904) 928-9400 or request an appointment on line.