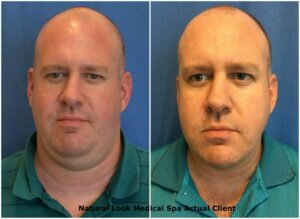 Kybella is the non-surgical treatment for the double chin. Dealing with a double chin can be a very frustrating experience. Carrying around excess fat has a lot to do with genetics, weight gain, and aging. Typically people think diet and exercise can solve the double chin dilemma, but that is not always enough. Modern Aesthetic Centers Gate Parkway offers a nonsurgical treatment for both men and women that can improve your neck and chin profile. We are excited to introduce you to KYBELLA™.
What is Kybella?
KYBELLA™ is an FDA- approved prescription medicine (deoxycholic acid) used in adults to improve the appearance and profile of moderate to severe fat below the chin (submental fat), also called "double chin."
How long does the Kybella treatment take?
The injection process of the treatment may take as little as 15 to 20 minutes which is one of the many great perks. The expectation after the injections will be swelling in the treatment area. The amount of swelling varies depending on the size of the area treated.
When will I see results?
Results do vary, and most will need more than one treatment. After you and our practitioner personalize your treatment, it is common that you will see results after one to three treatments. Results are cumulative with results starting with the first treatments. These treatments can be administered with a minimum of four weeks between injections.
Will the fat return?
Another great perk? Once the cells are destroyed, they can no longer accumulate fat.
Kybella for the double chin. Get started today!
Kybella is the non-surgical alternative to liposuction. The treatment requires no anesthesia. No scars. No incisions. Kybella is a safe and effective in-office treatment of unwanted fat for the double chin.
Schedule your complimentary consultation (904) 928-9400 and find out if Kybella is right for you.