Did you know 90% of skin damage is caused by sun damage? Aging UVA rays are equally strong on sunny days and cloudy days. And, after the age of 20, you produce 1% less collagen in the skin each year. Pretty skin can be a little effort or a lot of effort. Either way, HydraFacial makes it effortless.
What is a HydraFacial?
Hydrafacial is the newest technology for microdermabrasion lovers. HydraFacial is the only hydradermabrasion that combines cleansing, exfoliation, extraction, hydration, and antioxidant protection simultaneously, resulting in clearer, more beautiful skin with no discomfort or downtime. The treatment is soothing, moisturizing, non-invasive and non-irritating.
What are the steps in a HydraFacial?
3 Steps in 30 minutes for the best skin of your life.
Step One: Cleanse and Peel to uncover a new layer of skin with gentle exfoliation and relaxing resurfacing.
Step Two: Extract and Hydrate to remove debris from pores with painless extractions. Nourish with intense moisturizers that quench the skin.
Step Three: Fuse and Protect to saturate the skins's surface with antioxidants and peptides to maximize your glow.
Does HydraFacial address all skin care needs?
HydraFacial benefits all skin colors and all skin types paying special attention to your unique concerns:
Fine Lines and Wrinkles
Elasticity and Firmness
Even Tone and Vibrancy
Skin Texture
Brown Spots
Congested and Oily Skin
Enlarged Pores
Dehydrated Skin
Can my treatments be tailored for specific concerns?
Yes! HydraFacial offers Boosters. Boosters tailor your treatment with HydraFacial serums to address specific skin concerns.
Dermabuilder Boost minimizes signs of aging and recharges skin with a combination of peptides.
Growth Factor Boost minimizes the appearance of fine lines and wrinkles to restore skin health and vitality.
Britenol Boost minimizes the appearance of dark spots and sun spots for an even complexion.
Are treatments good for both men and women?
Absolutely.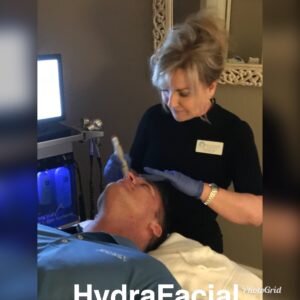 Only HydraFacial uses patented technology that combines nourishing ingredients to create an instantly gratifying glow. Restoring your skin's health couldn't be more effortless. Read More in Allure Magazine
https://www.allure.com/story/hydrafacial-treatment.
Complimentary Consultations.