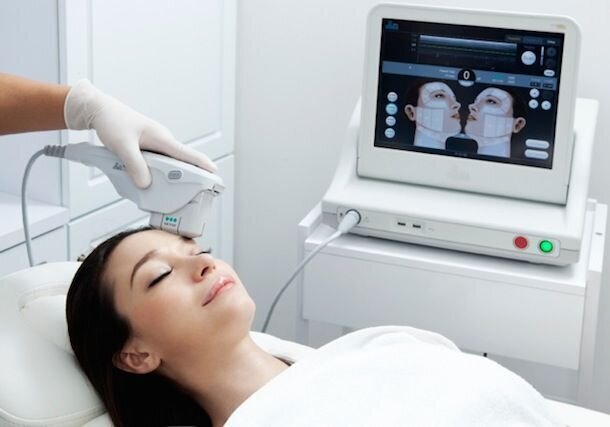 Collagen production decreases by 1% every year beginning at the age of 20. You begin to notice subtle signs that include changes in the tone and texture of the skin, wrinkles, fine lines, loss of volume, and laxity. Contributing factors like free radical damage, UVA damage, diet, sleep, hydration, and exercise also play a factor in your aging process. You begin to feel like you've lost the baby face of your youth! Collagen is what makes babies look like babies. There is a collagen boost solution with Ultherapy.
Ultherapy, an FDA approved treatment to lift the face and neck, restores collagen that provides the lift without looking like you've had 'work' done'. We offer a lighter version of the traditional Ultherapy treatment, the Sonic Lift, that is appropriate for men and women who just need a collagen boost.
The Sonic Lift:
• Is ideal for younger patients that are focused on prevention
• Is perfect for clients who want to maintain the results of a Full Ultherapy treatment
• Is budget friendly for any man or woman who needs a collagen boost
• Sonic Lift can be combined with Microneedling or HydraFacialMD for maximum benefits
• Treatment can be repeated every 6 months
• Uses focused ultrasound energy delivered to the superficial layers of face, eyes, mouth, and neck, if needed
• Helps build collagen levels and combats any early signs of skin laxity-loss of firmness and elasticity
• Is non-invasive
• Is non-surgical
• Shows results in as little as 3 weeks but full results show in 3 months
While it is vital to keep your skin looking healthy, it is also never too late or too early to get started. Call (904) 928-9400 and schedule your complimentary consultation today and let us customize a Sonic Lift for you.