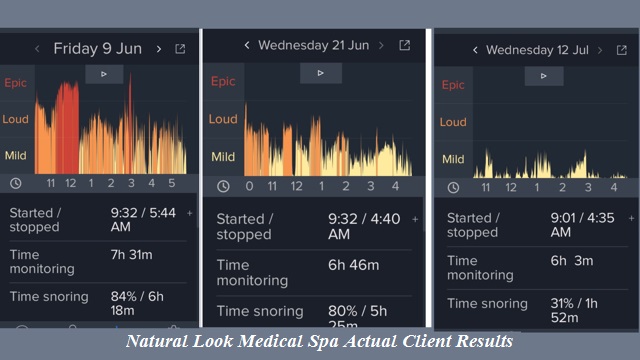 Snoring has numerous consequences that can include the feeling of tiredness and headaches, as well as disruption for most couples during the night. Many studies have actually shown a strong link between snoring and increased risk of heart attack and stroke. Modern Aesthetic Centers Gate Parkway offers a nonsurgical snoring procedure – NightLase – that reduces and even eliminates snoring.
How Does NightLase Stop Snoring?
The goal to eliminate snoring is to reduce the excess tissue in the back of the throat. This tissue becomes lax and thickened to due age, smoking, or even carrying extra weight. Just as you see areas of your face and body age…the same thing is happening to the tissue in your throat. The NightLase snoring procedure uses a laser specifically designed to reduce the thickness and tighten the tissue in the back of the throat. The procedure is actually changing Type 3 back to Type 2- or the collagen of your youth. The procedure takes 15-30 minutes and allows you to return to normal activities immediately.
The difference between NightLase and alternate treatments:
Requires no device to be worn every night
Has an 80% success rate for improvement when compared to CPAP- 40%
Requires no downtime
Painless
Non-surgical
For both women and men of all ages and all skin types
Rhonda, a recent Modern Aesthetic Centers Gate Parkway client, was recommended a CPAP for her sleepless nights and chronic snoring. After finding it difficult to sleep with, she decided to pursue our NightLase treatment. She monitored her progress and in just 6 weeks Rhonda's snoring decreased from 84% to 31%. Rhonda considers NightLase the only treatment that has been successful her.
Restful sleep is a fundamental need for our all aspects of our physical, mental, and emotional health. If you are a chronic snorer and loosing valuable sleep, our NightLase treatment is for you. Call today for a complimentary analysis and experience the new gold standard for snoring treatments. (904) 928-9400.