Christie Brinkley embodies the look of health and beauty. Last year, when she announced to the world she had an Ultherapy treatment to remove lines from her chest and rejuvenate her skin, every woman took notice. It's not all Mother Nature!
Ultherapy is the perfect blend of prevention and correction.
If you are in your 30's and 40's, prevention with mild correction is your focus. Beyond your 40's, moderate to maximum correction and continuous prevention is your focus. Ultherapy is a tried and true treatment for both prevention and correction using focused ultrasound that penetrates the skin up to 4.5 mm deep – the depth where plastic surgeons 'lift' during a facelift procedure. But, it's unlikely you would want a surgical lift on the knees, chest, or buttocks…a lot of downtime and scars. Ultherapy makes the options so easy and completely non-surgical just like it did for Christie Brinkley. https://naturallookmedicalspa.com/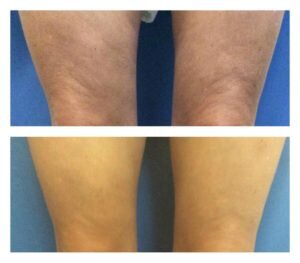 Anti-aging for the body is a newer trend now with safe and effective treatments to support the desires of women to look great from head to toe. The areas of the knees are a common concern for women after 35-40 years of age. The areas begin to sag from loss of collagen, develop cascades of heavy lines, and appear less smooth and youthful. Here is a photo of a Modern Aesthetic Centers Gate Parkway client that had the Ultherapy procedure treatment for her knees. Her picture shows correction of the deeper lines and uneven skin, but more importantly, prevention is always 100%. Slowing the aging process is just as important as correction – which helps you to age gracefully. You don't wait to color your hair until it's all grown out – the same principle applies with anti-aging and age management, just not as often! Watch Kathie Lee lift her neck with Ultherapy https://www.youtube.com/watch?v=Mz8z59_lZno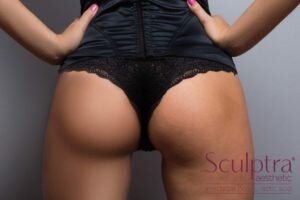 Now, think about the banana roll under your buttocks and the flat spots on your bottom. It's the area where no amount of squats or lunges seems to make the improvement you want. Today, we can combine treatments to create the round, smooth bottom you want and say goodbye to the banana roll, too. Ultherapy unites with Sculptra like a match made in heaven. Ultherapy lays down the foundation for 100% prevention and maximum correction, while Sculptra provides the roundness of the bottom you may have not been born with or lost with age.
Summer is almost here. And, there is no better time than now to start preparing for summer fun! When hitting the gym isn't enough, at least you know you have options. Call today to schedule your Complimentary Anti-Aging for the Body Analysis with Lynda Avera, Aesthetic Specialist. (904) 928-9400.