Can I share a secret with you? You don't have to do several anti-aging skin treatments at once to look your best at every age.
I have to share the fantastic results of our Linda G. who has been a client with us for 16 years. Linda began her treatment at the age of 45. Doing a little bit at a time and being consistent with her treatment worked well for her. It can work for you too.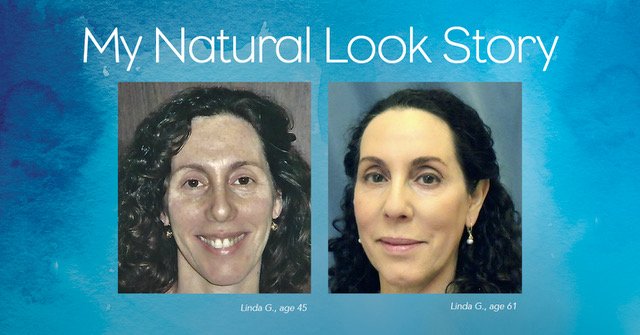 "16 years ago, Teresa introduced me to the benefits of non-surgical anti-aging. Like most women, I just wanted to feel and look my best. The most important advice Teresa gave me was to be consistent … a little bit every year. It worked for me! I feel great and couldn't be happier with the results of my treatments over the years." -Linda G.
Here is a list of anti-aging services that Linda has had over the years.
Botox to reduce wrinkles on the forehead, glabella, and around the eyes
Chemical Peels to maintain a flawless complexion and increase collagen production
Facials for professional exfoliation and hydration of the skin
Fotona 4D for non-surgical skin tightening
Kybella to reduce submental fat and improve her profile
Laser Hair Removal for perfectly hair-free, smooth skin
Laser Skin Rejuvenation to reduce pore size and smooth complexion
Permanent Makeup to correct thinning brows and eyeliner to enhance her eyes
Photofacial to resolve sun damage and mild rosacea
PRP (Platelet Rich Plasma) PRP injections use each patient's plasma to stimulate tissue regeneration and trigger growth and healing in the treated area.
At the age of 30, you stop producing collagen. Collagen is the most abundant protein in the body, providing your skin's structure and is considered the foundation for youthful skin. After 30, you lose about 1% every year. By 40, you begin seeing crow's feet around the eyes, laxity along the jawline, and volume loss in the cheeks and under the eyes. At 50, you may think you need a facelift. But, there are affordable options with state-of-the-art technology that give you choices.
Anti-aging is both corrective and preventive, which is the secret to aging well without surgery. Anti-aging skincare treatments can help you look and feel young. Our skincare experts provide treatments for all skin types, including women and men of color.
Our anti-aging treatments are customized to each individual to provide incredible results for wrinkles, rosacea, acne scarring, and complete skin renewal. When you want a refreshed, natural, and youthful appearance, our professional staff will provide you with the results you deserve.
"My consultations begin with a conversation. I have found anti-aging goals and expectations are a little different for everyone. I enjoy the process of helping men and women embrace aging and educating them on non-surgical alternatives for looking their best. It's so rewarding to see a client excited about their results." –Susan T. Coker, PA, Master Injector and Laser Specialist.
Over the last decade, it's become desirable for both men and women to seek non-surgical anti-aging treatments to prolong surgery, maintain an earlier facelift, or avoid surgery altogether.
With the advancements in technology and injectables, aging gracefully is now available to everyone.
Our Master Injectors and Skin Care Experts have helped Linda achieve her goals by being consistent in doing a little bit each year. Linda has been diligent with Botox and Cosmeceutical Skin Care, like ZO Skin Health, to maintain a youthful appearance. The beginning starts with correction of what bothers you the most and then transitions into prevention and an effective skincare regimen at home.
Where do you start?
The good news is you are never too early or too late to start with anti-aging! We invite you to schedule a Complimentary Consultation with our Master Injector and Laser Specialist, Susan T. Coker, to establish your goals and discover how non-surgical anti-aging can benefit you.
Susan specializes in treating middle-aged women; keeping them from looking "done" is her specialty. Everyone wants to look good, but no one ever wants to look like they've had work done.
You can look and feel your best. There are many affordable options to fit your lifestyle and budget.